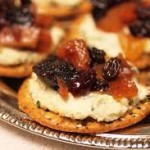 You just got your coaching certificate, or signed up as a multi-level marketer, or decided to hang out your shingle—so you thought you might sign up for a couple selling/marketing blogs and…
WOOSH! The next thing you know, you're receiving 50 emails a day from people selling webinars on how to make a "6-Figure Income" within four days! They all seem to think that anybody can do this, and what's the matter with you for not signing up for their $200 webinar?
What's better than a "6-Figure Income?" Having fun, that's what! Here are some facts:
Almost nobody makes six figures their first year.
There is no shame in not making six figures, ever.
It's much more important to have fun when you sell than it is to make six figures.
MAKE SELLING A PARTY  
If you focus on making selling fun, you'll be happier and you might even have more sales. Think of selling as inviting people to a party or, as I say in The Soul of Selling, passing the Cosmic Hors D'Oeuvres Tray.
Say your sales goal is to move around the room, offering people tender morsels, until your tray is completely empty. You spend a few minutes taking in the succulence of  those hors d'oeuvres: the plump little olives in cheesy puff pastry, the sumptuous mushroom caps stuffed with crabmeat, the sassy broiled shrimps, the sensuous runny brie on crispy crackers, the naughty little pigs-in-blankets sizzling away in the midst of it all.
The folks at this party are terrific, and having a great time. You think about what you might say to them as you offer them an hors d'oeuvres. "No , those aren't turkey pigs-in-blankets, Marlene. They're the real thing." "Yes, Ed, the shrimp are broiled and marinated in a Thai lemon sauce." Flakey cheese puff pastry, Angela, stuffed with imported olives?" "Runny double brie with rye and caraway crackers, John?"
You straighten your shoulders, bring forth your best self, the one who wants to connect with each person and serve them, and set out into the room.
HONOR THEM—WHETHER OR NOT THEY BUY
You look Sally in the eye and give yourself the gift of a rich, authentic connection with her. She takes a shrimp and gives you a big smile. Next stop, Ned. He shakes his head and returns to his conversation. Do you take it personally? No! He may be on a diet, or trying to cut down on fats, or allergic to much of what's on your tray, or not hungry, or lactose-intolerant to brie, or just engrossed in his conversation! Regardless, your interaction with him is just as warm as your interaction with Sally. The chances that his "no" is about you are slim to none, so you remember to honor, respect, and appreciate him as you do all your "customers"—whether or not they buy.
You go all the way around the room, and still have a quarter of your hors d'oeuvres left. You don't mind going around again to make your sales goal, because each interaction is a joy. People love to see you coming, whether or not they take an hors d'oeuvres, because you bring your presence, your smile, and your generosity of spirit.  You don't even mind going out into the hall, or into the kitchen—or even out into the street—to "sell" everything on your tray.
WHAT IT'S ALL ABOUT  
It's not about six figures; it's about those warm, authentic interactions. They're a delight to you and to your customers, even those folks who don't take an hors d'oeuvres this time around.  Enjoy it, and keep doing it. You'll like yourself, you'll appreciate your customers, and you'll have fun.  If it doesn't enrich your life, or if you can't find a way for it to enrich your life, do something else that does bring you joy and serve people. That's what selling is about.
What makes selling fun for you?