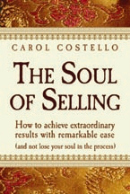 The Soul of Selling captures everything I learned in 30 years of producing record-breaking sales results; developing rich, productive relationships with clients and customers; and learning to love selling and do it in an easy, natural way!
It guides you through 6 quick, easy steps that guarantee big sales numbers, service to others, and personal fulfillment. It's all about doing good and doing well, feeding your soul as well as your bottom line.
You get specific sales tools to:
Dissolve the mental chatter that keeps you from enjoying and succeeding at sales
Discover and enjoy your own natural enthusiasm, and renew it at will
Deliver specific results, consistently, with ease and joy
Conduct the 10-Step Honoring Sales Conversation
Make "the ask," handle objections, and close the sale with confidence, grace and skill
Never again take "no" personally
Master the art of "selling yourself" without fear or stress
This sales book is both a training primer and a desktop tool for ongoing sales inspiration.
For your autographed paperback, click "Add to Cart" in the sidebar. To see it on Kindle, click the photo above
The Soul of Selling is a revolutionary sales book that reveals the selling secrets of how to:
Take the guesswork out of results, and the stress out of selling
Simply be yourself, be good to people, and get the great sales results that make you a leader in your field
Say goodbye to fear of rejection or manipulation, and access your own natural confidence and enthusiasm
Produce the exact sales results you want, every time—guaranteed!
It is for anyone who wants to fuse great sales results with personal integrity, authenticity, and relationship selling–including:
Coaches, consultants, and other professionals
Entrepreneurs and fundraisers
Sales teams
Network marketers
Anyone who wants to bring others on board with their product, service, project or vision
See a sample chapter here…
WHAT PEOPLE SAY ABOUT THE SOUL OF SELLING…
"This is how selling can be, and this is certainly how selling will be going forward for those who wish to make a successful career and endeavor in that regard."   — Aaron J. Webber, Unicity Co-CEO and President
"This is cutting edge…and I've read them all! Ms. Costello has turned up the heat on selling techniques that will change the way I do business. I feel a new sense of ease already, and can't wait to utilize these techniques in my day to day interactions. Excellent read, too!"   —  Tom LeNoble, Sales and Service Executive
"I read plenty of business books in my job, and I can confidently say that this little book is one of the more profound works I've encountered on business, selling, and life. Few of us are aware of the baggage we carry around about sales, marketing, and success. Carol Costello has opened my eyes and given me an entirely new way to achieve success without selling my soul. This book is as much about being a good person as it is about being successful. If you've even thought for a second that the two are mutually exclusive, buy this book!"   —"Book Guy"  Amazon reviewer
"I love this book! I am one to avoid all activity related to selling ANYTHING. This book helped me see the value that a salesperson IS to people. And what a fun read! I've given this book as gifts to all sorts of "sales" people: a soccer mom, a President/CEO for a nonprofit, and an attorney. There are good tips for those in all walks of life." —  Christine Schmoeckel, Chief Information Officer
"If you do what Carol Costello says, you will be successful, and enjoy the process. Whether you are fundraising for your child's school, a professional salesperson, or a small business owner, this book will help you clarify and achieve your goals."  —  Carolyn Ingram, Ed.D. , Psychologist, Author and Coach