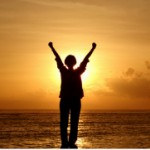 I was crushed when my first selling mentor said, "Be the source of your own enthusiasm!"
It was so unfair! Where was the Fairy Sell-Mother? Where was the sparkle-dust that would jack me up? Where was the marching band? Slowly, the sad truth dawned: Not only might I wait forever for the Fairy Sell-Mother and her marching band–but it would serve me well in life, as well as in selling, to learn to generate my own enthusiasm.
That's when I made up the Soul of Selling Chant.
Complaint to contribution!
Drama to dreams!
Struggle to service!
Reasons to results!
The Chant reminds me what I'm about, and puts whiny, dramatic, put-upon, arguing-for-my-limitations me back on track. It may sound silly, but my motto is: "Whatever works!" [Read more…]