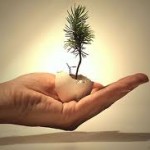 "What's the most fun you ever had selling?" I asked my selling mentor in 1976. (I was 4 and had only just learned to talk.)
"Teaching other people to sell so they don't go crazy," she said without missing a beat. "It gave them a confidence and generosity that they used their whole lives, whether or not they ever actually sold anything—let alone made their living by selling."
I took two lessons from what she said:
Learning to sell with ease and reliability gives you a tremendous amount of personal power. I know many people who mastered the art and are no longer selling, but who don't hesitate to commit to things like making big money for their churches or nonprofits, enlisting and managing large groups of volunteers, or stepping up to chair their 30th high school reunion.
Supporting other people makes us feel fantastic. Whether or not that support has anything to do with selling, it makes us feel like a million bucks.
OUR NATURAL SKILL
Thinking of ways to support others comes naturally to most of us. If we really stop and are present to others, we can usually see right away what might make their lives easier or better. It seems obvious where we might lend a hand, a word, or an hour. And if we don't see, we can always ask—which is often a better idea anyway, because our ideas of what would support people and their may be different!
Take a minute and think of two small things you can do today to support people in your life. Even if it has nothing to do with selling, it will help your sales because you will feel terrific.
UNIVERSAL SUPPORTS
We each have certain things that we like to do to support people, and certain ways we like to be supported—but some types of support are universal. You can't go wrong with them, and you can do them even of you don't even know the other person's name:
See the best in people. Whatever your interaction  with them—selling, lunch, playing cards, socializing—remember to respect, honor and appreciate them. Even if you say or do nothing, they will feel how you are seeing them.

Show that appreciation

by commenting on something  they did, or some way they interacted  with people, that you admired. You might even send them a card or email.

Stay connected with people when you speak with them

. Be generous with your attention. Hear them fully and clearly.

Be interested, rather than interesting

. Keep your focus on what you can do to support them.
It sounds so simple, but how fully do we actually do these things?
How do you like to support people?