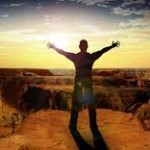 This is the fun part, the part where you eat the frosting off the cake.
You've see people's value and committed to making that the basis of your sales conversation. You've felt the "ping" of connection with them. Now it's time to share your vision of what you are offering. It's time to start talking about what you love.
OPEN UP YOUR SPEAKING BANK
Most of this conversation comes from the Speaking Bank you developed in Soul of Selling Step #3. Your Speaking Bank is a collection of sound bites—of different lengths and appropriate for a variety of occasions—that you can put together with support from The Soul of Selling book or on your own. They give people all the information and inspiration they need to make a good choice about your offer.
People need to know what you are offering, and they expect that it will be presented in the best way possible. You owe it to yourself, to them, and to your product or service to do that—and your Speaking Bank will help.
Start the conversation with your opening ten-second  sound bite. Your instincts will tell you what to say next. Notice what impact your words are having on the other person. If people appear to go away mentally, ask them a question—even if it's only, "Is this making sense?" or "Am I covering the information you need to know?" Keep them with you.
Move through your Speaking Bank intuitively until you've given them everything they need in order to buy. Remember to keep honoring them and holding their interest.
EASIER THAN YOU THINK
Most of the time, you'll be engaged in two-sided conversations. There may be times, however, when you are asked to give a short presentation before answering questions.
Ruth was the newly named capital campaign chair at her church. She had no sales experience, and was faced with a series of "at home" meetings. The idea was that at each of these meetings, she would present the vision of the new church to 3-6 people, answer their questions, and then ask them for a donation.
This was a challenge for her, but she said, "I just flung myself into the pool and decided I had to swim. The Speaking Bank was my lifesaver. I had all these good things to say, so I just looked out at those folks and reached for whatever sound bite felt right. After a while, I could just tell what they needed to hear to get inspired. It was a lot easier than I'd thought it would be. Each group was different, and I said different things to each of them—but I learned pretty quickly how to pick just the right sound bites from my Speaking Bank." Ruth became a force of nature in that capital campaign.
This touchstone is about letting it rip. Keep an eye on the other person and make course corrections if necessary—but mostly, have fun talking about what you offer. You are taking a stand for your product or service, for the best in the people with whom you speak and for the best in yourself.
That feels great.