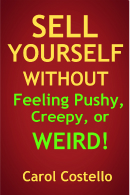 Do you love what you do to serve people, but hate having to "sell yourself" to do it?
Master sales coach Carol Costello offers a powerful 10-step approach to selling yourself in an easy, natural, authentic way that serves everyone with whom you speak—and also gets the exact sales results you want.
This approach transforms those queasy, uneasy feelings about selling yourself into a clear, open confidence that helps you handle objections with ease and aplomb, and close the sale with skill and grace.
A NEW WAY TO SELL YOURSELF
Carol offers a new definition of selling yourself: "bringing our best when we interact with people, serving them, and being a stand for our own value, for their value, and for the value of what we are offering."
This approach is based on the three basic principles of Carol's popular selling primer, The Soul of Selling: Honor yourself, honor others, and honor what you offer.
The way you sell should reflect who you truly are, and it should be fun. It's time to stop letting fear, embarrassment, or queasiness about selling get in the way.
Sell Yourself Without Feeling Pushy, Creepy, or Weird! was written with coaches, practitioners, service-providers, and solopreneurs in mind—but it works for anyone who needs to sell themselves in order to give the world their gift.
We all sell ourselves, all the time, whether we are:
•    Offering a service like coaching or accounting
•    Offering products like cars, cosmetics or cleaning products
•    Finding a job or working toward a promotion
•    Getting our kids to eat broccoli, inviting people to a dinner party, talking about a cause, or making a new friend
This book is about selling yourself in a way that makes you feel great, serves others, gets your gift is out there into the world, and helps you make a living doing what you love.