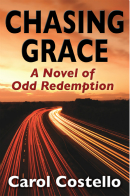 CHASING GRACE: A NOVEL OF ODD REDEMPTION  is a raw, funny look at spiritual coming of age, at unconventional ways to heal deep emotional wounds, and at finding greater purpose in surprising places despite desperate odds.
THE STORY: Cathy Callahan runs away at age ten to escape her mother's sexual and emotional abuse and to find God, whom she first met in a Chicago public park when she was six. The next thirty years are a series of funny, brutal, and uplifting adventures that pit her humor and strength against the shame and rage churning within her.
She searches for love, healing, and wholeness in all the wrong places as she runs across the country from Chicago to San Francisco—in the Catholic Church's byzantine, yoyo system of indulgences and salvation; in a bakery cum brothel run by Mollie, the brassy older woman who "adopts" her; with a good-looking, half-naked guru hawking "I AM Oneness" who uses her to build his enlightenment business and gets her pregnant; with Spirit in the High Rockies and a cowboy who beats her up until she shoots him; and finally, in too much Scotch.
She pulls herself out of an alcoholic bottom in a Reno alley and returns to ground zero, her mother in Chicago. There she finds unexpected grace in the last place she thinks to look.
Cathy is smart, funny, and strong, but also reckless, blind to grey areas, and trying to outrun demons she does not understand and will not face. She has few handrails in life in the form of family, traditional religion, or social structures, but she gives everything she has to her quest for redemption and the sacred. Even when her efforts go terribly wrong, we feel her courage, humor, and grit.