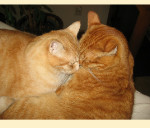 My 8 year old orange tabby brothers, Frankie and Flynnie, show me a lot about life—and I realized recently that they also teach me a lot about selling.
PURR SELLING
Here is some of their wisdom:
1. Always purr. It makes everyone feel good—especially the person who is purring. Being good to people helps us feel good about ourselves and makes us happy. Let yourself truly enjoy people's company, whether or not they buy. Sometimes Frankie just sits on my desk, right next to the keyboard, about 18 inches from my face, and purrs. I invite him onto my lap, but he's quite content just to sit there, b-r-r-r-ing away.
2. Be ready with a quick leg rub or a gentle head bump. We all like a little validation and affection. Don't wait for a good reason to give people acknowledgement or compliments. We can overdo this, just as Flynnie sometimes overdoes head bumps, but better to be a little generous than a little stingy.
3. We don't need words to communicate, for better or for worse. People know where we are without being told, and whether or not they can articulate it. They sense how we feel about them, and also how we feel about what we're offering and about ourselves. Frankie and Flynnie are two of the best communicators I know, and their English vocabularies are limited to "Hop!" (time to move off whatever you are on), "Breakfast," "Lunch," and "I love you." (They never did learn "No"—or at least they never let on that they did.)
4. Let go of the results and just be present. Every time Frankie hops up on my lap, flops on his back, and gives me the "I'm here" look, he would like for me to spend the next hour or so gazing into his eyes, stroking his face and tummy, and telling him how wonderful he is. I do my best, but this is in the middle of work time so I rarely meet his expectations. That's fine with him. He's just there to give, and so he just purrs for a while, then nods off into a lap nap.
5. Be persistent, or purrsistent, in service to others. Both kitties need daily meds, and I still have to be persistent about their morning pills. This is their least favorite time of the day, but I think they know I do it for them—and that I'll make it happen every day no matter how many times they spit the pills out. They are purrsistent as well. When I'm stressed out, I don't always want to stop and have a love feast. They insist. Frankie will sit in the middle of the living room meowing ever more loudly until I finally come sit with him and he calms me down.
6. Make agape your home base. Agape, or universal love, is where Frankie and Flynnie live. They don't make friends based looks, income, or even intelligence or sense of humor. They love everybody. Love is where they come from, not where they go to if the other person checks out.
I am blessed on so many levels, and two of my greatest gifts—as a person and as a seller—are these furry guys.