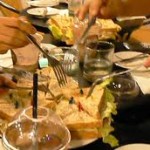 What to do when we get that queasy, uneasy feeling that maybe we should have gone to plumbing school instead of selling? (We're not the only ones. Every seller has had that feeling at some point.)
Here's what I do. I pretend I'm giving a dinner party, and calling people to invite them. That's fun. It'll be a great evening, people will be delighted that I called, and I'll be enthusiastic about giving them the party info and finding out whether or not they can come! What's not to like? Instead of feeling fearful or burdened, I suddenly feel eager and confident.
In fact, about the only difference between selling and inviting people to a dinner party is that there's no cooking or cleaning involved. I can even use the 6 Soul of Selling steps to guide the way…
1. PUT DOWN YOUR BAGGAGE AND FIX WHAT YOU CAN. Before I call to invite people, is there anything weighing on my mind that might make it less fun? Oh, yeah. I kind of do remember that Thanksgiving when I experimented with nuking the turkey in a plastic bag…  But that was then, this is now, and I'm not going to do it again. Besides, I'm serving salmon and not going near the microwave.  And I've already scheduled cleaning those nearly opaque windows, so I'm set to go.
2. PINPOINT YOUR PASSIONS. This salmon is melt in your mouth. I'm also doing Vegetable Mornay and a faboo crisp salad, and bunches of other succulent things—plus a Chocolate Decadence Cake for dessert. And I love these people, some of whom haven't even met one another, so it'll be a treat for them as well.
3. CREATE YOUR SPEAKING BANK. What info do people need—date, time, dress, and what else? I'll tell them I have a new, out-of-the-box salmon recipe, and give some intriguing details about the other guests whom they don't know.
4. PROMISE YOUR RESULT.  How many people do I want? I've planned four, but do I want to expand to eight? Can I manage that? Can I commit to it?
5. CONDUCT THE 10-POINT HONORING SALES CONVERSATION. This is the easy part, calling to share the excitement and get people on board. Those ten points will keep me on track, with my attention on the other person getting clear, committed, and looking forward to the event.
6. KEEP GOING UNTIL YOU GET THE RESULT. If I'm planning for eight people and one can't come, who is my backup invitee? Can some people say "no" without my going into a tailspin and thinking they hate me? If eight is really the number I envision for this dinner party, and I do hear "no" from a few people, can I have fun juggling and filling out the guest list?
We sell either because we've chosen it as a profession, or because we have something we want to offer people—and that means we have to get out and sell it. In either case, we're better off if we're having fun, and so are the people to whom we make our offer. Bon appetit!