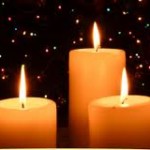 Festival of lights! Most faiths and cultures have a mid-winter celebration featuring fires, lights, and candles to warm the coolest, darkest time of the year. It's a time for everybody to put on our finery, plump up our spirits, rise up into community and festivity, and demonstrate our generosity of spirit with gifts both tangible and intangible.
Even if the holidays bring up frustration, sadness, or loneliness, they can teach us something about ourselves and about how we move into the world.
THE BEST HOLIDAY EXCHANGE
Recently I found myself caught up in thinking about the holidays in terms of "obligations" and "marching through my to dos"—and having a terrible time.
Midway through vacuuming my living room, I stopped in my tracks and realized that how I held the holidays was entirely up to me. I could slog from one event or task to the next, warding off overwhelm—or I could get into the true holiday state of mind, which is generosity of spirit.
I might do all the same tasks and events, but I would have a wonderful time and bring that happier, more generous spirit to everyone I encountered.
THE SELLING SPIRIT
Not only that, but I can make that same exchange every day of the year. I can trade in selling fear and frustration for a generosity of spirit that brings the festival of light into my own heart and spreads it wherever I go.
That's a much more fun and rewarding way to sell—and to live. Happy holidays, everyone!